We went camping on Lake Somerville last weekend with a bunch of friends. Chris brought his sailboat and everyone was excited about taking a turn out on the water. The only problem was the wind was INSANE and there was rain, too. And we were outside….. in a tent. The wind was so bad Friday night that we ate in our tents. That night, inside our cozy little tent were three scared little corgis and a toddler. Joy. I seriously thought our tent was going to blow away that first night. Clara did awesome though. I'm not quite sure how, but she slept most of the night. Max on the other hand, didn't fare as well. Every time a gust blew, he leapt onto our faces. The poor guy shook the whole night. Needless to say, Chris and I (and Max) got very little sleep. We finally fell asleep around 5:00 and woke around 7:00. Here's a lovely picture of Clara and I after, hands down, one of the most miserable nights of my life.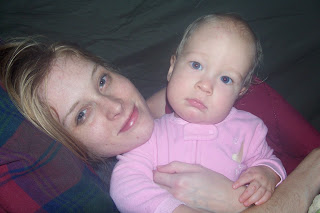 Saturday was quite a bit better, but there were still strong winds. Chris did take some of the group out onto the water, but their outing was pretty short. The winds were just too strong, so Chris was really uneasy especially since there were kids on board and our friend Glenn got hit in the head with the boom. Sorry Glenn. It just wasn't a good day for sailing.
The wind finally calmed down in the late afternoon and we were able to enjoy a meal and fire outside. Got plenty of sleep, but it got down into the low 40's during the night. I wasn't prepared for that. I kept worrying about Clara's little bald head. I hadn't packed a whole lot of warm clothing because it was so nice before we left. Plus, who needs clean clothes when you're camping. Yuppy campers maybe. Well, twice Clara's dirty diaper leaked through both pairs of pants I had brought her. And it was too cold and windy to wash anything and expect it to dry. I just put the stinky pants back on. They weren't too bad. Her sweatshirt was going on day three and I thought I was just going to have to burn it when we got home it was so gross. Speaking of gross, I hadn't brushed my hair, washed my face or showered all weekend. I was afraid to look in a mirror. And Chris stunk to high heaven. Sunday morning was beautiful though. Too bad we had to pack up and go home. Here's Clara scarfing down a pancake while I packed up the tent.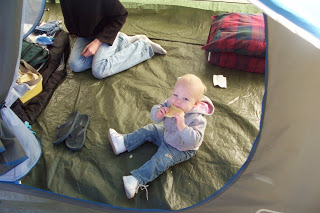 Helping sweep out the tent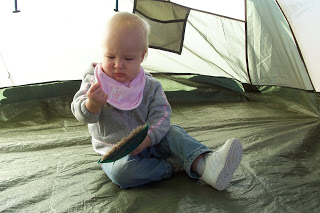 I would've posted more pictures of the weekend, but that's all I took. I know, I'm bad.
Here's a picture of Clara from dinner tonight. She enjoyed watermelon for the first time. And I do mean enjoyed. She even ate some of the rind! She cried when I took away her half eaten rind. You give the girl some rice or a piece of mac and cheese and she gags like you just fed her dog poo, but she eats up the watermelon rind. Go figure.